January 15th, 2023 by Joan Maiden
Our hearts can hold more than we give them credit for. I never thought it was possible to hold intense grief and extreme joy at the same time. Can a heart break and remain whole?
Preparing for my daughter's wedding was exciting and happy. At the same time, my best friend, JJ was suffering from physical problems.  Her health deteriorated to the point she was unable to speak or swallow. Surgery revealed a rare form of thyroid cancer. I made plans to visit her right after the wedding. I knew it would be our final goodbye.
The day before my daughter's wedding, I received the phone call I dreaded. JJ had passed away that morning. Every text  I received from her ended with "I love you, my friend". It broke my heart that I would never get the chance to tell her one final time that I loved her and what her friendship had meant to me through the years.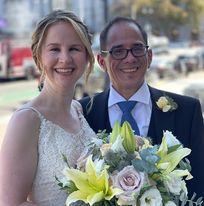 Would I be able to put a smile on my face during the wedding celebrations? The wedding morning was a beautiful sunny day. The love and joy shining from my daughter's and her fiance's eyes made it impossible not to share in their joy and happiness. My heart was bursting with love. At the reception, I asked the minister how I could feel so much grief and happiness at the same time. His response was, "because our hearts are big enough to hold grief and joy ".
I realized that grief needn't take away joy. My heart could hold both at the same time. It doesn't mean I don't feel grief, but I'm learning to look for joy in the memories and not to let it be so all-consuming that I don't find joy in other areas of life.
RIP my sweet friend. I love you.