Opening the door to a gym changed Joan Maiden's life and the life of countless others.  Read about the other doors that she opened and the life changing outcome that each new door presented.
Also shared in Overcoming Mediocrity Vol II are the stories from other women who have created their own lives of significance, not only in their professional lives, but in their personal, physical or spiritual lives as well.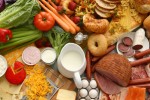 Nutrition
Real, whole, fresh foods are the best sorces of vitamins and minerals.  However, it is often hard to get all the necessary nutrients from our diet.  I will only recommend the highest quality supplements and products to enhance your daily nutrition.